New Patient Center
What to Expect at Experience Wellness Chiropractic
Experience Wellness Chiropractic is a happy place to be that features a high-energy environment. Music plays in the background, and people are hanging out in The Family Farm, an area for kids and families to relax in.
We have open adjusting and semi-private adjusting areas, as well as private examination rooms. Our fun, welcoming atmosphere will make your entire family feel at home!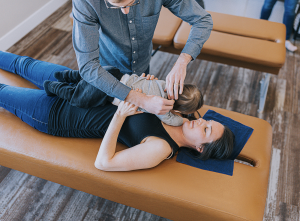 Your Step by Step Wellness Journey
Our team is excited to welcome you to Experience Wellness Chiropractic. Before we get started, you'll need to complete your new patient paperwork, available here on our site.
By completing your paperwork in advance you allow the doctors more time to get to know you and to review your history in detail. This will help us better care for you and help you achieve better results.
Your Consultation and Exam
When you arrive at the office our friendly staff will greet you. Someone at the front desk will go over your paperwork with you. Next, we'll take you on a brief tour of our office to help familiarize you with where things are and what we do.
Our team of doctors will confer with you regarding your history. Our goal is to gain a better understanding of your current health as well as any stressors that may be prohibiting you from reaching your health goals.
Your doctor will then conduct a full examination and an assessment of your nervous system. They will perform a non-invasive painless scan using the Insight Neural Assessment System. If needed, X-rays may also be recommended.
Once your exam is complete you'll schedule a time to return for your next visit to discuss findings.
Determining the Course of Your Care
The next time we see you in the office your chiropractor will review all the findings from your exam, scan, and X-rays with you. It's at this visit that we'll answer some of your most important questions:
What did you find?
How severe is it?
What is my suggested care plan?
How much will my care cost?
Together we'll develop your personalized care plan and then you'll receive your first adjustment!
Your Continuing Care
Future visits should only last five to ten minutes. You'll be checked and adjusted and will be on your way in no time. All of our doctors at Experience Wellness Chiropractic are talented and well trained. They function as a team so you can see either doctor at any time and there won't be any interruption in your care.
As you move through care we will continue to assess your progress with updated Insight Scans. This "progress exam" helps us ensure that your care is following the proper path. If needed, we can adjust your plan at this time to keep you moving toward your goal of optimal health.
You may have other questions about your care. If you don't find the answers you need on our site, please feel free to call us. We're happy to answer any questions you might have.
Schedule your time with our friendly team today! (763) 383-5109

New Patient Center at Experience Wellness Chiropractic | (763) 383-5109