Meet Dr. Jeremy Faue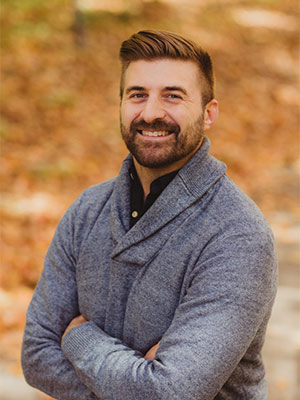 Switching From Premed to Chiropractic
"I was a premed student playing football at the University of Minnesota when I had a nasty neck injury called a stinger. My arm was either numb or I had burning, shooting pain down it every time I'd turn my head.
I sat out for about two months, missing practices and games. I exhausted all medical resources, including taking medications that are now off the market.
I also had therapy multiple times every day and was considering an epidural injection in my neck to get back on the field.
My mom finally talked some sense into me, asking why I'd do that just to play. I decided against the injection and was then offered a chance to see our team chiropractor. Within a week of my first adjustment, I was back playing!
It made me wonder, why wasn't chiropractic the first option?
It prompted me to want to dig deeper into what chiropractic was all about."


Developing a Passion for Natural Health
Dr. Jeremy enrolled at Northwestern Health Sciences University. His passion for sports led him to pursue treatment for athletes and performance. After having his first child, he started to realize his love for helping children and families.
Dr. Jeremy says, "Waking up every day and seeing that life in my child's eyes gave me an understanding of perfect health and what it means to be well-adjusted from the time you're born. What it's like to never be sick or to need medical intervention. I have a passion to teach the chiropractic lifestyle, and I want to make it accessible to everyone in our community!"
In addition to his Doctor of Chiropractic qualification, Dr. Jeremy is certified in the Webster Technique and is pursuing his board certification in pediatric chiropractic.


Living an Active Family Life
When Dr. Jeremy isn't helping patients, you'll find him outside with his family.
He and his wife have two young children, a daughter and son. In the spring, they make maple syrup from trees on his grandpa's property in Plymouth or enjoy playing in the park.
Dr. Jeremy is an avid outdoorsman and enjoys fishing and hunting.
He likes all sports and plays hockey in the winter or goes boating in the summer, enjoying the sun. He's an avid CrossFitter and likes to be active.


Staying Involved in Our Plymouth Community
Experience Wellness Chiropractic is a member of the TwinWest Chamber of Commerce. Dr. Jeremy is also involved with My Child's Chiropractor, a group of chiropractors who work together to promote healthy kids and families. You can find out more about this organization at www.mychildschiropractor.com.
He also runs a local chiropractic philosophy group called EPOC, or Epicenter of Chiropractic, and works to educate the people of our community about chiropractic care. This group meets monthly with up to 100 chiropractors and students in the metro area.
At each meeting, the participants discuss and stay up-to-date on relevant health care topics. "We also network and make sure that we're on top of advances in the profession to give our patients the best experience possible."
Start your family on better health and wellness. Contact us today! (763) 383-5109
---
Dr. Jeremy Faue | (763) 383-5109